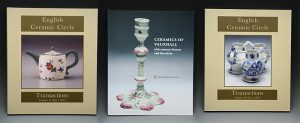 Welcome to the ECC Publications page.  Here we list and, if available, sell,
ECC publications.

We hold stocks of a number of ECC publications, ranging from Transactions to special publications and catalogues. The available stock is listed below.  Titles without an "Add to Cart" button are unfortunately out of print.  If you want to search for the contents of particular volumes you can do this on our archives website (without registering).  Just press ARCHIVES.
The price of publications does not include postage and packing which is £5.00 per copy for anywhere in the United Kingdom and £15.00 (one copy), £30.00 (two copies) for anywhere else in the world. The appropriate amount will be added to your purchase.
Whilst the cost of the various publications is shown only in £ Sterling (GBP), your debit or credit card will be charged in your local currency at the current exchange rate.
If you want to find articles in the Transactions search by entering the author or words which might be relevant to the subject mattter or included in the title.
You may also order publications by sending a careful note of your requirements together with a cheque (which should include postage and packing costs as above) to:
The Treasurer
The English Ceramic Circle
BM Box 7246
London, WC1N 3XX
England
All other enquires about English Ceramic Circle Publications should be sent via email to:[email protected]
If you have presented a paper at an ECC meeting or are considering offering a paper to ECC, please see our Guidance for Authors here.
---
Creamware & Pearlware Re-examined   £20.00                                                               

---
Limehouse Ware Revealed
£20.00                                                              

---
British Ceramic Design 1600 – 2002
£20.00                                                              

---
Made at New Canton (Bow)
£20.00                                                              

---
Scrolls of Fantasy:
The Rococo and Ceramics in England     c 1735-75
£20.00                                                               

---
Fire and Form: The Baroque and its influence on English ceramics 1660-1760  £20.00

---
Ceramics of Vauxhall    £25.00                         

---
Shipwrecks and Marriages – Dated and Documentary Ceramics  £25.00

---
Isleworth Pottery and Porcelain – Recent Discoveries Catalogue of a joint ECC / Museum of London exhibition following excavations at Isleworth and Hounslow Heath. Covers Porcelain, Creamware, and Slipwares.
---
Bow Porcelain On-Glaze Prints and their Sources
£20.00

---
Volume 27, 2016   £35.00

---
Volume 26, 2015   £35.00

---
Volume 25, 2014   £35.00

---
Volume 24, 2013  £35.00

---
Volume 23, 2012   £35.00

---
Volume 22, 2011   £35.00

---
Volume 21, 2010   £35.00

---
Volume 20 Part 3, 2009   £35.00

---
Volume 20 Part 2, 2008   £35.00

---
Volume 20 Part 1, 2008   £35.00

---
Volume 19 Part 3, 2007   £35.00

---
Volume 19 Part 2, 2006   £35.00

---
Volume 19 Part 1, 2005   £35.00

---
Volume 18 Part 3, 2004   £35.00

---
Volume 18 Part 2, 2003   £25.00

---
Volume 18 Part 1, 2002   £25.00

---
Volume 17 Part 3, 2001   £20.00

---
Volume 17 Part 2, 2000   £20.00

---
Volume 17 Part 1, 1999 £20.00

---
Volume 16 Part 3, 1998   £20.00

---
Volume 16 Part 2, 1997   £20.00

---
Volume 16 Part 1, 1996   £20.00

---
Volume 15 Part 3, 1995   £15.00

---
Volume 15 Part 2, 1994   £15.00

---
Volume 15 Part 1, 1993   £15.00

---
Volume 14 Part 3, 1992  £15.00                      

Volume 14 Part 2, 1991
Volume 14 Part 1, 1990
---
Volume 13 Part 3, 1989   £15.00

---
Volume 13 Part 2, 1988   £15.00

---
Volume 13 Part 1, 1987   £15.00

---
Volume 12 Part 3, 1986
---
Volume 12 Part 2, 1985   £10.00

---
Volume 12 Part 1, 1984   £10.00

---
Volume 11 Part 3, 1983   £10.00

---
Volume 11 Part 2, 1982
---
Volume 11 Part 1, 1981   £10                          

---
Volume 10 Part 5, 1980
Volume 10 Part 4, 1979
Volume 10 Part 3, 1978
---
Volume 10 Part 2, 1977    £10.00

---
Volume 10 Part 1, 1976    £10.00

---
Volume 9 Part 3, 1975    £10.00

---
Volume 9 Part 2, 1974
---
Volume 9 Part 1, 1973   £10.00

---
Volume 8 Part 2, 1972
Volume 8 Part 1, 1971
---
Volume 7 Part 3, 1970    £10.00

---
Volume 7 Part 2, 1969    £10.00

---
Volume 7 Part 1, 1968    £10.00

---
Volume 6 Part 3, 1967
---
Volume 6 Part 2, 1966  £10 .00                          

---
Volume 6 Part 1, 1965
Volume 5 Part 5, 1964
Volume 5 Part 4, 1963
Volume 5 Part 3, 1962
Volume 5 Part 2, 1961
Volume 5 Part 1, 1960
Volume 4 Part 5, 1959
Volume 4 Part 4, 1959
Volume 4 Part 3, 1957
Volume 4 Part 2, 1957
Volume 4 Part 1, 1957
Volume 3 Part 5, 1955
Volume 3 Part 4, 1955
Volume 3 Part 3, 1954
Volume 3 Part 2, 1954
---
Volume 3 Part 1, 1951   £10.00

---
Volume 2 Part 10, 1948
Volume 2 Part 9, 1946
Volume 2 Part 8, 1942
Volume 2 Part 7, 1939
Volume 2 Part 6, 1939
Volume 1 Part 5, 1937
Volume 1 Part 4, 1937
Volume 1 Part 3, 1935
Volume 1 Part 2, 1934
Volume 1 Part 1, 1933
Volume IV, 1932
Volume III, 1931
Volume II, 1929
Volume I, 1928