ECC Home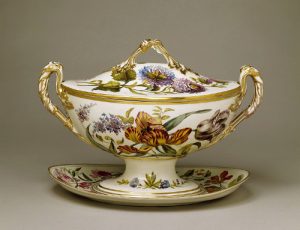 ECC Online archive
Transactions between 1928 and 2009 are now available in our digital archive.
Join the ECC on-line archives now!
The English Ceramic Circle
(ECC for short) is the oldest society dedicated to the study of British ceramics and enamels. Founded in 1927, it aims to advance knowledge by promoting and publishing new research on these subjects.
The Circle`s worldwide membership embraces collectors, curators, archaeologists, potters, auctioneers, dealers, social historians and all those with an interest in the history of ceramics made in the British Isles.
By invitation from the Committee, members may present the results of their research at meetings, normally held in London between October and April of the following year, and those scholarly papers are published annually in the `Transactions of the English Ceramic Circle`, sent free to subscribing members or purchasable by non-members.
Other activities, including visits to collections, seminars and extra publications are undertaken from time to time.
Donations
The English Ceramic Circle is Registered Charity Number 1097063. We rely on member`s subscriptions and donations to continue to carry out our activities promoting and publishing research on English Ceramics.
Whether or not you are a Member would you be prepared to make a donation to ECC? If so you can do so using any credit or debit card or your Paypal account.
Please follow the link by clicking on "Donate" below.
Should you wish to contact us, please use  this link or the contact form.
The English Ceramic Circle Committee members
Charles Dawson  – President
Patrick Hagglund  – Editor
Jonathan Gray  – Meetings Secretary
Patricia Macleod  – Membership Secretary
Stephen McManus – Librarian
Alan Walden –  Treasurer
Jacqui Pearce
Rosemary Pemberton
Past President
Roger Massey
John Mallet
American Representative
Diana Edwards
Honorary Vice Presidents
Mavis Watney, David Redstone, Felicity Marno, Nicholas Panes, Rosalind Pulver and Colin Wyman
Copyright notice
This website and its content is copyright of The English Ceramic Circle. All rights reserved. Any redistribution or reproduction of part or all of the contents in any form is prohibited other than the following:
You may print or download to a local hard disk extracts for your personal and non-commercial use only.
You may copy the content to individual third parties for their personal use, but only if you acknowledge the website as the source of the material.
You may not, except with our express written permission, distribute or commercially exploit the content. Nor may you transmit it or store it in any other website or other form of electronic retrieval system.
Cookie Policy
The English Ceramic Circle`s own content uses no Cookies. However, when you make payments through this website we are advised that Worldpay and Fastcart use cookies, but only to the extent necessary to implement your payments.
When you use our Web Forum "Pot-Talk" you leave the ECC`s website and enter that hosted by Websitetoolbox. For details of the privacy policy of Websitetoolbox, who do use cookies, please see details at www.websitetoolbox.com/privacy.html